Description
The Culla di Teby fitted cloth diaper is a two-piece system: an absorbent part and a waterproof part to add.
Il Kit Fitted è fatto da:
3 pannolini Fitted
3 inserti assorbenti interni
1 cover
1 rotolo di veline raccogli feci oppure un pacchetto di 6 veline lavabili
Il Kit Fitted è perfetto per i neonati, perché i pannolini Fitted sono molto assorbenti!
Pannolini Lavabili Fitted: come è fatto?
The Culla di Teby Fitted nappy is a shaped nappy, fully absorbent and made from several layers of fabric.
Thanks to a pocket opening, you can add inserts to increase the absorbency according to your needs.
Quando usare i Fitted? Il pannolino lavabile per la notte!
Fitted diapers are perfect for the night and for the first months of life.
We advise our mums to use them alternately with Culla di Teby's Hybrid Cloth Diapers during the first months of your baby's life because they are very absorbent. When your baby grows up, we recommend that you continue to use them at night to get super absorbent.
Come usare i pannolini lavabili Fitted?
1. Adjust the snaps according to your baby's size
2) Insert the absorbent in the pocket or put it on the outside
Per i neonati non sempre è necessario inserire l'assorbente.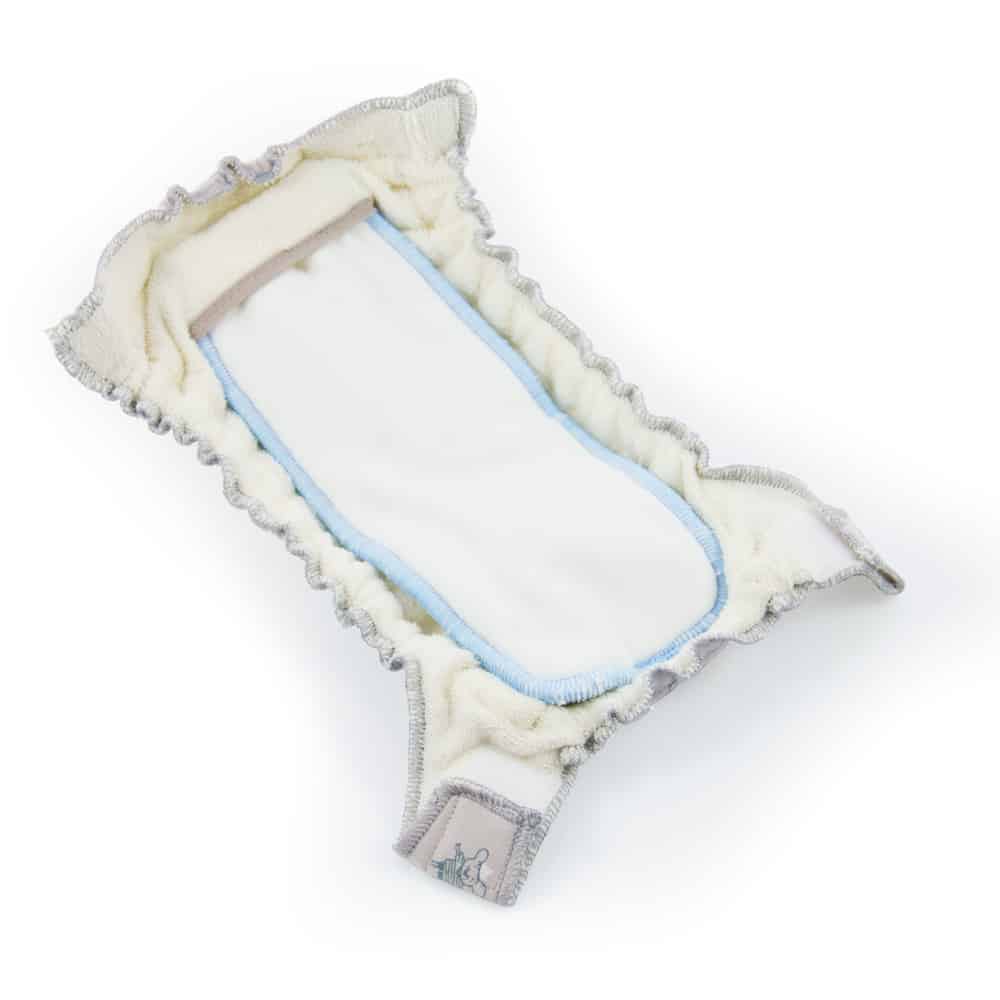 3. Wear your baby's nappy (LOGO GOES ON THE BACK!)
4. Add Teby Cover to block spills
I pannolini Fitted sono taglia unica?
Teby fitted come in three sizes:
Size 1 = from 2.5 to 6 kg
Size 2 = from 5 to 14 kg usually this size accompanies up to the moment of the potty.
Size 3 = from + 13 kg useful for older children
Pannolini lavabili Fitted o poket? Il fitted teby è ibrido!
Culla di Teby's Fitted diapers is a mix of these two types. Thanks to a practical pocket you can stuff your cloth nappy as if it were a pocket nappy, but with the advantage of being able to wash it even at high temperatures because the waterproof part (which in pokets cannot be washed above 50 degrees) comes off completely!
Fitted: Pros and Cons
It's a very absorbent nappy, perfect for the night and the first few months
More bulky than Culla di Teby's Diapers
Dries more slowly
For these characteristics we recommend it for newborns (it maintains the correct position of the hips and is available in newborn size) and for older children who need more absorbency for peeing at night.
Pannolino lavabile fitted Teby caratteristiche
Tessuto morbido e molto assorbente
certificazioni Oeko Tex standard 100 classe 1 e GOTS per il biologico
asciugatura molto rapida rispetto ad altri fitted in commercio, all'aria e in asciugatrice
Girovita extra morbido grazie alla fascia di tessuto che abbraccia il pancino del tuo bimbo
- transformability: the fitted insert can be used as an insert in your Culla di Teby's panties
Fitted Teby materiali
Puoi scegliere di mettere a contatto con la pelle:
la parte in bambù, naturale e traspirante
or
Microfleece part that makes the dry effect!
In the same nappy you already have two choices!
Anche i Fitted Teby sono pannolini lavabili made in Italy! Fatti a mano da artigiani italiani! Perché l'ecologia è a km 0!